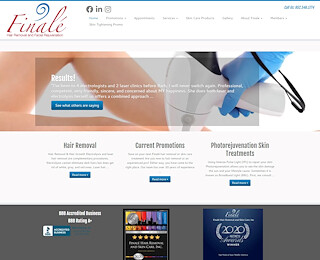 Finale Hair Removal and Facial Rejuvenation is the place to go for low-cost micro-needling in MN. Located conveniently in the Twin Cities, Finale Hair Removal and Facial Rejuvenation is all about making people look younger and have healthier, better-looking skin. Our services are fast, affordable, and effective, giving our patients the most bang for their buck. Because micro-needling is a cheap alternative to some of the other laser treatments and IPL treatment, it has become a popular choice for our patients and is continues to grow in popularity.
Micro-needling is the perfect solution for individuals who either can't do laser resurfacing or choose not to do laser resurfacing or IPL treatment. Like photorejuvenation, micro-needling leads to skin tightening, pore reduction, and wrinkle reduction. It helps with scarring, sunspots, and pigmentation, and it gives the skin on your face a healthy and youthful glow.
Keep Your Facial Skin from Aging Prematurely
By triggering collagen and elastin growth, the skin on your face will actually thicken with micro-needling treatments and stop collagen from deteriorating completely. The loss of collagen and elastin is what leads to premature wrinkling. Micro-needling achieves best results when this therapy is used in conjunction with your anti-aging beauty products because micro-needling will lead to increased absorption and concentration in your facial skin.
Micro-Needling for Stretch Marks?
One of the worst things that naturally happens to most women as we age is the inevitable stretch marks that come with giving birth and losing weight. Stretch marks are much more difficult to treat than ordinary scars. However, many women have reported excellent results in minimizing or eliminating stretch marks with micro-needling in MN. Unfortunately, for micro-needling to effectively reduce stretch marks, more treatments will be required.
Get Rid of Rosacea with Micro-Needling
Rosacea is a pesky skin disorder that causes unattractive redness in the face. More than be annoying or unsightly, Rosacea causes the collagen in the face to deteriorate, leading to premature aging. Contrary to the common misconception, Rosacea is not hereditary. It can be triggered by temperature, excessive exposure to sunlight, and even by the foods we eat. Micro-needling is a great way to combat Rosacea because it induces collagen naturally.

Fight Acne More Successfully with Micro-Needling
One of the most raved-about uses of micro-needling is how well it treats acne. While micro-needling does not directly attack acne, it greatly enhances the efficacy of topical acne creams by allowing your skin to absorb it and concentrate it into troubled areas better. Many people use a Derma Roller at home to treat acne, but this is not advised! Dermarolling at home can lead to bacteria contamination and an even worse acne break out if the needles of the Derma Roller penetrate your acne. It's best to be left to a professional.
Contact Finale Hair Removal and Facial Rejuvenation
If you would like to learn more about how micro-needling can benefit you, give us a call. For the best and lowest-cost micro-needling in MN, accept no substitutes. Finale Hair Removal and Facial Rejuvenation is the expert you can trust.
Micro-needling Mn
Finalé Hair Removal & Facial Rejuvenation
952-546-1774
2000 Plymouth Road #230, Minnetonka MN 55305
View Larger Map
We welcome your comments!