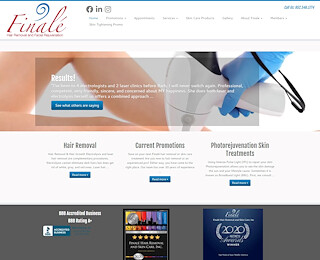 As most purchases today begin with a Google search, you might be surprised to learn that 'microneedling near me' will bare lots of search results - a lot more than you might have expected! If you are in the Minneapolis or St. Paul area, you will have dozens and dozens of selections to choose from. Selecting the right establishment for microneedling therapy is vital if you want to ensure that your treatments are done in a safe, licensed, clean, and sterile environment. Finale Hair Removal and Facial Rejuvenation follows all of the highest industry standards for maintaining a safe and professional facility.
If this is your first time receiving microneedling therapy, and you're going to use your face as a guinea pig and pin cushion, make sure you choose a company you can trust when you search online for 'microneedling near me.' This may require some research on your part before scheduling an appointment.
Is Microneedling Really Worth it?
Brad Pitt, Angeli Jolie, and Jennifer Anniston are just a few names among the many Hollywood A-listers known to use microneedling technology to keep themselves looking their best. Since lots of famous people whose careers depend on keeping their faces looking young, smooth, and beautiful are using microneedling to achieve this goal, shouldn't we at least be considering the benefits and effectiveness of microneedling?
Microeeding Triggers New Collagen and Elastin Generation
At Finale Hair Removal and Facial Rejuvenation, We use a small device with hundreds of tiny needles and radio frequency technology to create microscopic injuries on your face. These tiny pricks create a channel for a controlled wound that we're creating, which triggers the body to want to heal itself. The healing process triggers the body to create new collagen and elastin.

Since we stop building collagen in our early thirties, we want to stimulate the collagen process again, and that's exactly what microneedling does! The technology and the procedure are fast, simple, and very straight-forward. Along with the easy-to-understand mechanics, microneedling comes with a long list of benefits. Some of the most common benefits associated with microneedling include:
Acne Scars
Wrinkles
Age Spots
Sun Spots
Stretch Marks
Search for 'Microneedling Near Me' that Treats Stretch Marks
Many women and men who suffer from embarrassing stretch marks on their skin have thought for years that there is no solution for their problem. Now, microneedling technology provides people with a simple yet very effective means of eliminating or significantly reducing unsightly stretch marks.
Although many of our patients are scared or apprehensive when they come in for their first microneedling session, there's really nothing to worry about. It's not torture! The microneedling device has a wheel that smoothly glides over your skin and delivers a slight zap. Even the most pain-sensitive patients tend to only experience some mild discomfort during the treatments and a few days of redness afterward.
The Cost
The cost is usually $250+ with 3-6 sessions recommended for optimal results. So, when you search on Google for 'Microneedling near me,' be sure to choose Finale Hair Removal and Facial Rejuvenation in MN.
Microneedling Near Me
Finalé Hair Removal & Facial Rejuvenation
952-546-1774
2000 Plymouth Road #230, Minnetonka MN 55305
View Larger Map
We welcome your comments!