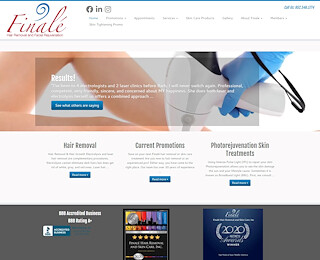 Minneapolis laser hair removal has become a popular and preferred method of removing unsightly and unwanted body hair on all skin types. Laser hair removal has become the predominant means of permanently eliminating unwanted hair on the body. Because of its lasting effects, people prefer LHR over shaving and waxing.

Laser hair removal is done with different types of lasers. The main types of lasers that are used are the Alexandrite Laser, which is 755 nanometers; the 810 Nanometer Diode Laser; the 1064 Nanometer ND Yag Laser; and the IPL Laser. There are many factors that make all of these lasers distinctive. Always keep in mind that the type of laser is different than the brand of laser.
Laser Hair Removal is Not an Overnight Solution
Minneapolis laser hair removal procedures are performed in our office at Finale Hair Removal and Facial Rejuvenation. To get around 90% clear results, the laser will go around the treatment area seven times total. Therefore, we regret to inform people who are looking for overnight hair removal that you will be disappointed if you think laser hair removal is going to solve your problem. Treatments are typically spaced out once a month, or even longer, depending on where we're going to be doing the treatments. Legs will be spaced out at an interval of every 6-8 weeks, and the face will be spaced out at an interval of every four weeks.
Minneapolis Laser Hair Removal Pain Alleviation
Before each treatment, we'll apply some numbing cream to the area being treated and wipe it off about a half-hour after we put it on. This ensures that your treatment will be as comfortable as possible. If a person is very pain sensitive, or if the area of treatment is very large, such as a back or a chest and stomach, we can also give a person an oral pain medicine with the numbing cream.
Lasers generally utilize cooling either by air blowing or by contact cooling. This helps to prevent overheating of the skin. The laser delivers a lot of heat to the skin, and the cooling will help to keep the skin temperature low enough that the patient will not get burned.
The Theory Behind LHR Treatment
The concept behind laser hair removal is called Selective Photothermolysis. The laser hones in on the pigment of the hair and follows it down into the follicle and destroys the cells responsible for making the hair. It's 'Selective' Photothermolysis because it selectively goes after the hair, and the normal skin is not affected. For this reason, white hairs and blonde hairs cannot be treated with lasers because they don't have melanin. Without melanin, there's no target for the laser to selectively go after.
Schedule Your Appointment Today
To learn more about Minneapolis laser hair removal, or to schedule your first appointment today, contact Finale Hair Removal and Facial Rejuvenation. We'll meet with you in person and discuss your treatment goals and options. We'll help you permanently get rid of your unwanted body hair.
Minneapolis Laser Hair Removal
Finalé Hair Removal & Facial Rejuvenation
952-546-1774
2000 Plymouth Road #230, Minnetonka MN 55305
View Larger Map
We welcome your comments!